I meant to write this two weeks ago...! I was home sick today, so I figure I should do something productive!
I'd read about Soap & Glory being a pretty good line that Target once carried, but now has been taken over to Sephora. For whatever reason I thought I'd be able to still get my hands on it at Target. So, I got organizational things, I still have yet to set up... ha. I went to Sephora and may have gotten a tiny bit carried away, BUT it was my birthday. ;)
Here ya' go: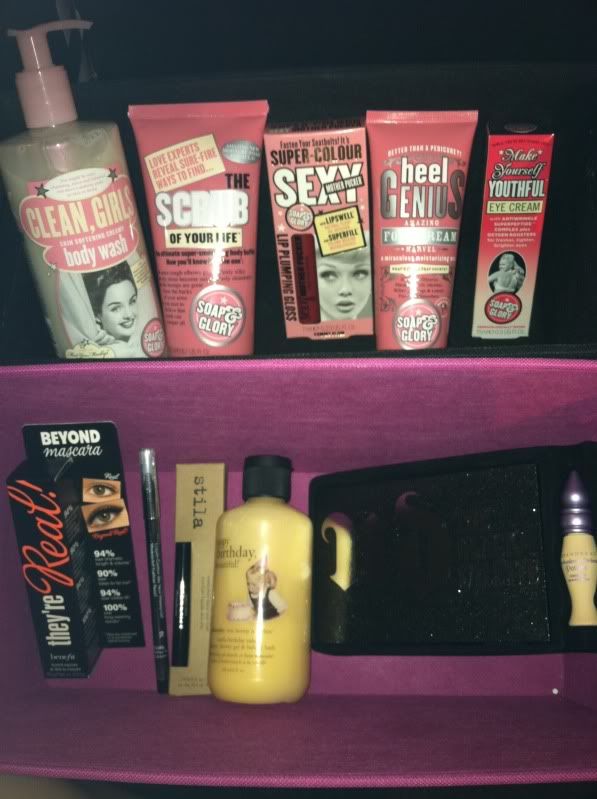 Top right going clockwise: Soap & Glory: Clean Girls body wash, The Scrub of Your Life,
Super-Colour Sexy Mother Pucker plumping gloss, Heel Genius foot creme, Make Yourself Youthful eyecreme. Urban Decay's The Black Palette. Philosophy's birthday bubble bath. Stila's Stay All Day waterproof liquid eyeliner. Make Up For Ever's Aqua Eyes eyeliner. Last but not least, Benefit's They're Real! mascara.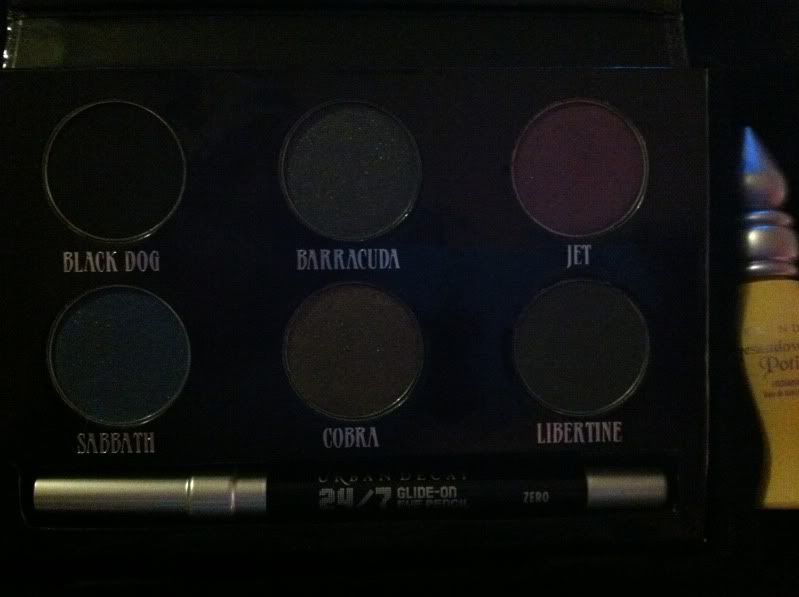 Here's a peek inside
The Black Palette
.
Starting with the UD palette.... I've only tried Libertine and Jet. These colors are FABULOUS but definitely for the lady who wants dark, smoldering eyes. I suppose that's why it's called The Black Palette. The colors are extremely pigmented and rich. The first two times I used Libertine I had to blend in a lot of a highlight color just to balance the bold color. Less is more! Oops... But the colors are absolutely fabulous! Seriously though, if you love a smoky eye, this palette is heaven! I cannot wait to play with it more! :) Oh and the eyeliner 24/7 glide-on pencil.. NICE! It glides on extremely creamy. It has a good staying power. Since it's a travel size I can carry it around easily and touch up on my water line. (although, admittedly I rarely touch up anything, which I SHOULD)
I think I'm smitten with
Soap & Glory
. I suppose I'm guilty for being a sucker for packaging. This is how I ended up getting grabby and impulsive, haha. I first tried the Mother Pucker plumping lipgloss. I normally don't like plumping glosses because they make my sensitive lips uneven, yuck haha. This gloss tingles like CRAZY, which I actually love! The only thing is, it didn't plump my lips. The gloss in itself is good quality. It's thick but not crudy, short-lasting, or messy. Very smooth and glossy. I'd repurchase even if I didn't see the plumping. The Heel Genius is wonderful! My feet feel softer. I think I've found pedicure foot in a tube (plus Ped Egg)! :) It's pretty light and leave a silky feel behind rather than sticky. I've noticed after the day after I use this creme, my hands are really soft, too!
My undereyes had felt sensitive in recent months. I figured it comes with aging, but I've not been taking care of that extremely sensitive area. I LITERALLY had flashes of my face with wrinkles when I'd be removing my raccoon markings at night. I could feel the tugging at my eyes. I've been using the eyecream for about a week now. It says AM and PM, but I just use in the PM before I go to bed. I lightly dab the TINIEST amount and I don't feel like I have the same sensitivity when I wash my face anymore! It's light and silky as well. I'll probably update on this eyecream after a month's use, too.
Clean Girls body wash smells so amazing! As do all the other products by Soap & Glory I've tried. Sephora says,
"This body wash softens and soothes with its natural vanilla fruit, orchid extracts, and built-in moisturizing matrix.
This body wash contains Mist You Madly's™ beautiful notes of bergamot, black currant, magnolia, freesia, vanilla, and musk." My skin feels incredibly soft after my showers when using this body wash. But it also gives me that squeaky clean I LOVE. I don't know how it does it, but it's super cleansing and moisturizing at once. I normally feel moisturizing body washes leave residue. Not this baby. ;)
I've yet to use the scrub...
I do like They're Real mascara... I don't know yet if it will be repurchased, only because I've been realizing a lot of drug store brands are pretty great and comparable to higher end mascaras.
xox