Holidays are here! And that means
Lush's holiday
products are here, too! Last year I was too late to get much... but I grabbed a thing or two this past week. LOVES.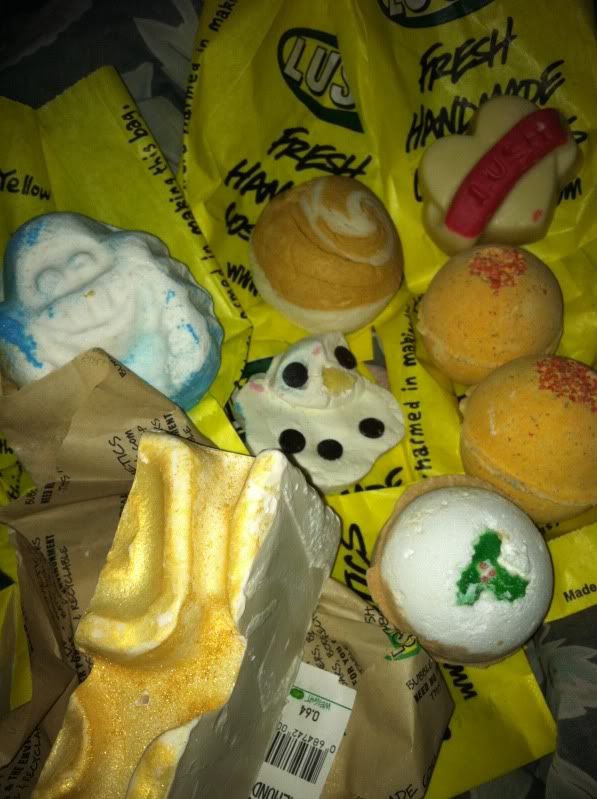 Starting with the blue and white man... ABOMBNIBALL! Haha. This big, cute guy is a bath bomb is very pepperminty, with notes of vanilla and a tiny bit of orange. There's a surprise in this guy! When you shake it, you can hear it moving around. I'm going to wait to use this one for when I'm feeling sluggish and or sore... seems like it'll be invigorating.
Cinnamon roll is called Three Gold Rings. It's a bubble bath bar. You crumble it up under your faucet and should create luxurious bubbles. It smells strongly of vanilla with the tiniest note of myrrh.
Snowman guy is the Snowman bath melt. You can drop the bath melt in a hot bath and it's essential oils will soothe your skin. This guy shea butter, cocoa butter, which should be very moisturizing for the skin!
The heart is the Heavanilli massage bar. This is in their permanent line, but I mentioned in a previous blog that the check-out forgot to put it in my bag. My skin feels extra dry lately, so I've been using this. You just massage your arms or legs (dry) and the bar immediately melts onto your skin. I also have the vanilla dusting powder so I'm not walking around with shea, cocoa butter visible on my skin. This product also has jasmine and vanilla.
The two golden balls is CINDERS bath bombs! I really, really wanted to try this bath bomb last year, but they sold out by the time I tried to purchase.You drop Cinders into your bath tub and it fizzles away and the red bits on top are little pop rocks. The scent is a very sweet cinnamon. Not very spicy smelling. I used this bath bomb this morning. This one honestly fizzes very quickly. Your bath turns an orange-ish gold. Does not stain your bathtubs, by the way. I love, love the smell. There is almond oil and cinnamon oil in this particular bath bomb, which really softened my skin nicely. I enjoyed a long bath while reading. I got out of my bath around 8am. Took a mini nap around 1pm and still smelled the light fragrance of sweet cinnamon on my skin. By the time I woke up, almost 2pm, the scent was a lot lighter. I can still smell it if I smell my arm. I'm happy I bought two! I will repurchase!
Now the next bath bomb is called Lil' Lush Pud. This is what Lush says, "Sinking into a steamy LUSH Pud bath is like curling up next to the fire on a freezing winter evening. Clove powder warms you up when you're chilled to the bone, while aloe vera extract and rose absolute soothe dry, winter skin. Inspired by traditional British Christmas pudding made of figs (and often served flaming), our LUSH Pud is more satisfying than dessert (although, admittedly we don't serve ours aflame). Oh, did we mention it has the scrumptious almond-icing scent of our beloved Snowcake soap? Yum!" There is also a note of clove, which I'm not 100% sure if I love the scent. But I thought, heck, why not try it?
Now last, but CERTAINLY not least, the pretty gold-dusted soap is called Snowcake. It smells JUST like marzipan and is seriously my most favorite scent I've encountered ALL YEAR! This soap has Rose Absolute in it which is supposed to really help dry skin and keep it smooth. I haven't used it yet, since I've been working on Honey I Washed the Kids soap. But I'm thinking of wrapping that one up and putting it aside so I can begin using Snowcake.