Blogging from the bathtub. Someone should seriously invent a waterproof laptop. Does that exist? *google later*
Yesterday I went to Target to get some organizers for my beauty crapolla. I was running out of room for my nail polishes. As usual, the $1 section at the entrance of Target trapped me! For a good 10-15 minutes. Despite Bryce's efforts to pull the cart away, I managed to get a good $25-30 worth of cute (Valentine's-themed) crap. Did you know there are $2.50 items in that section?! Who would have known... Before having buyer's remorse (YES, I BOUGHT A GIRL'S XS SHIRT WITH A COOL LOOKING YORKIE ON IT FOR MY NON-EXISTENT CHILD!) I decided to shove half of my $1-2.50 items on a random shelf. I got 5 new organizing bins, containers, whatever you'd like to call them.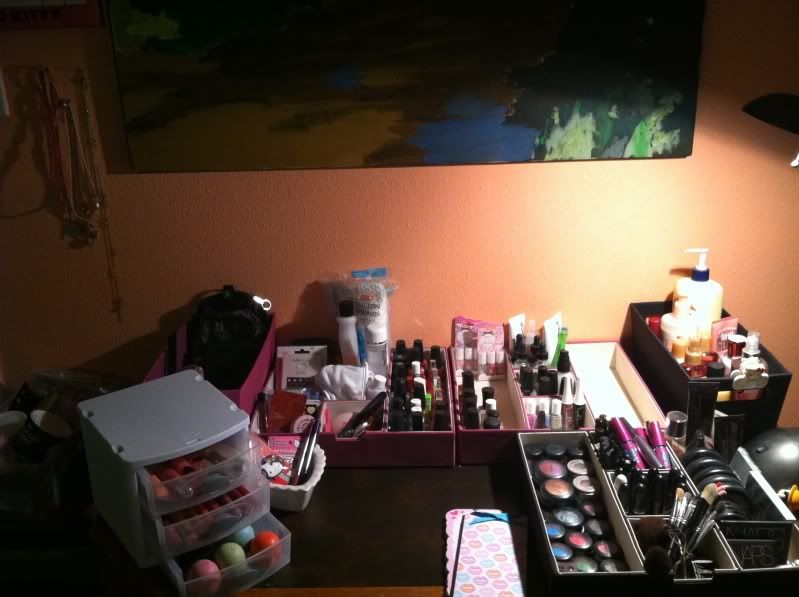 I recently signed up for a year's subscription of
Birchbox
, so I knew I needed to make more room on my desk for those goodies I'll be getting. ALSO, I signed up for three months of
Julep Maven boxes
, which are mani/pedi items (Click that link and use promocode of "JANUARY" and get your first box for $5). So, I know my nail polish collection will start to grow, too. I also am using a small bedside table to the right of my desk, which I'll be using more since I only have that one row of room in the photo.
Why do I get so excited about organizing this stuff? Underneath my sink has tons of hair and skin goodies that I like to reorganize once in awhile... freak!
xoxx
PS Not planning to have a kid any time soon. But I also bought cool pacifiers I saw at HEB. Bryce is going to lose his mind if I buy another thing like that. Ha!